The BFC-21- terminal is a battlefield computer. It is designed to be used in the military service.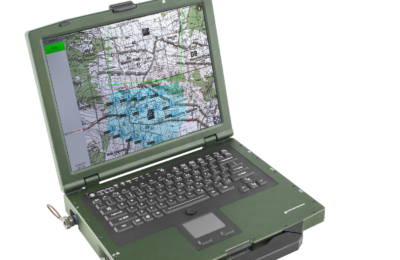 Its ruggedized structure ensures high resistance to mechanical damages and rough weather conditions.
BFC-210 is intended for installation on the crawler or wheeled vehicles as well as to be used outside as a portable computer. It can be a part of command, weapon control and reconnaissance systems or be used as the independent work station.
The operation of the BFC in the crawler and wheeled vehicles is carried out with use of a quick disconnect installation base. This enables the operation both at standstill and whilst the vehicle is in motion.
BFC-210 Technical details  
Processor, RAM, graphic card
Processor
Intel Core I7-6600U 2.6 GHz (up to 3.4 GHz)
RAM
default 8GB up to 16 GB
SSD interchangeable
SATA SSD- SLC 1,8? up to 128 GB / 1,8? MLC up to 512 GB
Video card
Intel? HD Graphics 520
Display
Diameter
15′
Resolution
1024 x 768
Brightness (cd/m2)
600
Contrast
800
Touch-screen
4-lines resistant
Ports
USB
max 1 x USB (złącze panelowe IP67 USB-A )
Ethernet
1 x ETH (1000BASE-T lub 1000BASE-SX lub 100BASE-FX )
Optical interface
1000BASE-SX or 1000BASE-FX
Operation system
Windows 10, Linux
Power
External
12-32 VDC
Internal
Lithium-ion battery 2 x (14.4 V / 2.8 Ah)
Power consumption
25 without charging battery

80 W with charging battery

Equipment
 NO-06-A103:2005
N.7-O-II-A, N.8-O-II-A, N.11-O-II-A i N.12-O-II-A
with exeptions
Electromagnetic exposure resistance
and electromagnetic emission
Electromagnetic exposure (both conducted and emitted)  resistant
In accordance with NO.06A200 in accordance with KCS-01, KCS-06, KCS-08
(MIL-STD-461D in accordance with CS-101, CS-114, CS-116)
safety
SDIP-27/1 Level B
Reduced elextromagnetic emission

(operation possible near the radio)

According to NO.06A200 according to KRE-02, KCE-02
(MIL-STD-461D wg. RE-102, CE-101)
Weather resistance
Operation temperature
-32°C + 55°C
Storage temperaturę
-40°C + 70°C
Dimensions and weight
Dimensions (width x hight x depth) [mm]
389 x 88 x 320
Weight [kg]
5 (aluminium casing)