Fermio BR is a universal flexible platform providing efficient computing performance and advanced graphics support with low power consumption.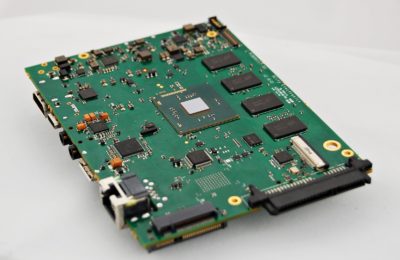 Default option offered for Fermio BR is 2-core Celeron® N3010 processor with very low power consumption (4W TDP), but its compatibility with other models of Intel® Braswell™ family (e.g. 4-core N3160 processor) allows for optimal adjustment of the processor performance to the application requirements. Fermio BR may be equipped with 1-8 GB LPDDR3-1600 RAM with
possible configurations:
• 1 memory channel – 1G, 2G, 4G,
• 2 memory channels – 2G, 4G, 8G.
Braswell™ family processors have built-in Intel® HD Graphics system. Fermio BR has 3 independent graphic outputs – HDMI, DisplayPort (dedicate port or via USB-C) and the option to connect a built-in eDP display (LCD 11-13") or MIPI-DSI display (AMOLED 5"). Fermio BR is being offered without preinstalled system, however support is provided for the following systems: Windows 8.1, Windows 10, Linux, Android.
Fermio BR interfaces and extension cards
A large number of interfaces on the motherboard provides wide range
of applications. Following interfaces are available for the users:
• 1 x USB-C supporting power supply (USB PD do 20V@3A),
USB2.0, USB3.0 and Display Port,
• 2 x micro USB 3.0,
• 1 x HDMI,
• 1 x LAN 10/100/1000 (with optional POE support),
• 3 x audio mini-jack (microphone, headphones, line-in).
A built-in eMMC flash memory with capacity of 8-128 GB can be
mounted on the motherboard as an option.
Possibility of flexible configuration of additional expansion cards or
adding external drives allows to create links:
• 1x SATA 2.5",
• 1x NGFF (M.2) key-E, interfaces: PCI-Express + USB + SDIO,
• 1x NGFF (M.2) key-B, interfaces: USB / SATA + SIM
(micro SIM connector),
• 1x mini-PCI-Express, interfaces: PCI-Express + USB + SIM
(micro SIM connector).
Technical details Fermio BR
Processor
Intel? Celeron? N3010 /N3060 /N3160 SoC | Intel? Pentium? N3710 / J3710 SoC ? Braswell? family | Intel? Atom? x5-E8000
Comunication
1 x GigaBit Ethernet RJ45 port USB 2.0 | high-speed client port mini-PCI Express
Power supply
9-20 V DC, USB-C option
Storage memory
2-128 GB eMMc chip | 2.5" SATA SSD/HDD |
Operating system
Windows 8.1/10, Linux, Android
Temperature range industrial
-10°C ÷ +85°C
Temperature range commercial
0°C ÷ +70°C
1x USB-C with charging support (USB PD do 20V@3A)
2x USB2.0, USB3.0
2x micro USB 3.0
1x Display Port
1x HDMI
1x LAN 10/100/1000 (optional POE)
3x audio mini-jack (microphone, headphones, line-in)
1x SATA 2.5″
1x NGFF (M.2) key-E
1x NGFF (M.2) key-B
1x mini-PCI-Express
PCI-Express + USB + SDIO
USB / SATA + SIM (micro SIM connector)
PCI-Express + USB + SIM (micro SIM connector)
2x I2C
2x UART