A state-of-the-art head which permits simultaneous observation and identification of targets and objects both in visible light as well as in the infrared band.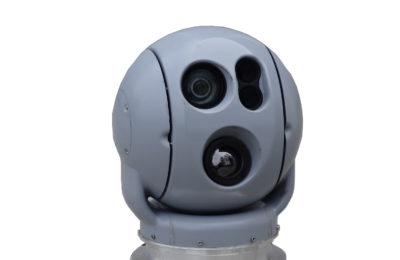 The GS30 head is equipped with two cameras.  It  is also equipped with a  laser
rangefinder, which allows distances to observed objects to be determined with high accuracy. The head has been designed for use with short-range tactical UAV platforms, such as FlySAR, Manta or Łoś. The head design allows adaptation of a broad range of sensors with various specifications. The base configuration consists of a HD daylight camera, a LWIR thermal imaging camera and a laser rangefinder. Fully digital video signal path ensures noise-free and distortion-free transmission of the video feed. On-board computers integrated in the GS30 head allow the imagery acquired from both sensors (in the visible light and IR) to be encoded, streamed and saved on board simultaneously. They provide computing power sufficient to run additional algorithms, which can be deployed on-board of the head, to answer increasing demands of customers.
Technical details GS-30
Daylight camera resolution
HD
Infrared LWIR camera resolution
640 x 480
Human detection distance
5 km
Human recognition distance
3 km