The head, designed by FLYTRONIC is equipped with two cameras: one is a visible light camera, which can record images in HD quality and the other is a thermal imaging camera.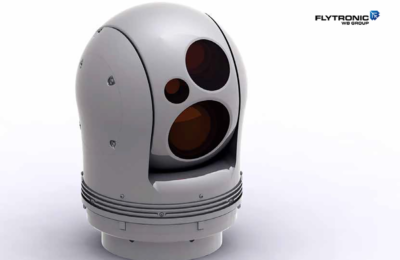 It is a triple-sensor head, which permits simultaneous observation and identification of targets and objects both in visible light as well as in the infrared band.
It also has a laser illuminator, which can be used to tag and acquire targets for other weapon systems. The system has been designed for use with the FlyEye UAV platform. The technology employed in the FT-GS4 head ensures fully digital video transmission, storage and processing of acquired imagery from both sensors (visible light and infrared) on-board of the head. Unique solutions used in the head ensure reliability even under most difficult conditions while innovative and advanced stabilization and control algorithms ensure very high quality of captured images.
Technical details GS4
Human detection distance in visible light
5 km
Human recognition distance in visible light
3.5 km
Registration plates reading distance in visible light
400 m
Human detection distance in infrared
1000 m
Human recognition distance in infrared
400 m