Manta LE (Long Endurance) is a tactical unmanned aerial system. Classic take-off and landing platform with the use of a retractable tricycle landing gear.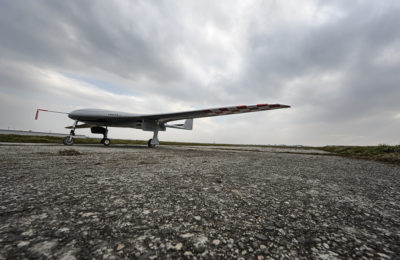 Similarly to MANTA VTOL, MANTA LE is equipped with a hybrid engine that supplies energy to on-board systems and charges the batteries. This enables this aircraft to offer a longer flight time.
MANTA's flight time has been extended to 12 hours, however this caused the arcraft to lose its ability to vertical take-off and landing.
The flight control is carried out through an ergonomic flight control station. The standard features can be modified depending on the destination and needs.
High quality video and telemetric data from on-board systems are transmitted to operation stations in real time through a digital, encrypted radioline.
An integrated digital data link ensures continuous  communication between the computers on the ground (Control  and Operation Station, Data Analysis Station, external elements  of the C4ISR systems) and the aircraft.
The standard features can be modified according to destination and operator's needs. The modular structure of MANTA LE faciliates transport. MANTA LE's modular structure is made of modern composite materials ensuring lightweight of the aircraft. Launch readiness can be achieved in approximately 30 minutes.
Technical details MANTA LE tactical UAV
Maximum take-off weight
65 / 140 kg
Powerplant
hybrid propulsion
Modern materials used for construction of the aircraft
Possibility to transport both sensors and armement
High lift-to-drag ratio
Retractable landing gear
Possibility to pre – define the flight route and modify the flight route in-flight
The possibility to control the system independently from two separate Light Ground Control Stations LGCS
Digital connection for a bidirectional transmission of flight control parameters, data and video imaging
Real – time receipt of video imaging and transmission of telemetric data to a Light Ground Control Stations (via transceiver station)
Adapted to operate without satellite navigation
Communication system working in harmonised NATO military frequency band
The entire system requires handling by two operators.
Hybrid propulsion of the unmanned platform
Fully autonomous take-off and landing
Airstrip take-off and landing 150m
Pre-defined route, possibility to modify route in-flight
Flight to a destination point of given coordinates
Holding over a selected object
Flight in the direction indicated by the surveillance payload,Ręczne sterowanie lotem ze stacji operatora
Automatic lock of a selected object in a frame
Automatic escorting (with the mobile transceiver station)
Lot autonomiczny według określonej trasy nawet poza zasięgiem radiowym
Autonomous flight along pre – defined route, even out of radio range
In case of communication loss – automatic retracting to the position of last radio contact or automatic landing in a pre – defined point
Modification of mission parameters in-flight
Possibility of recording of the video image and information during the flight on a computer hard drive including telemetric data (flight altitude, data transmission speed, time and coordinates of current image)
Advanced anti – spin system, anti – icing system protecting the Prandtl tube