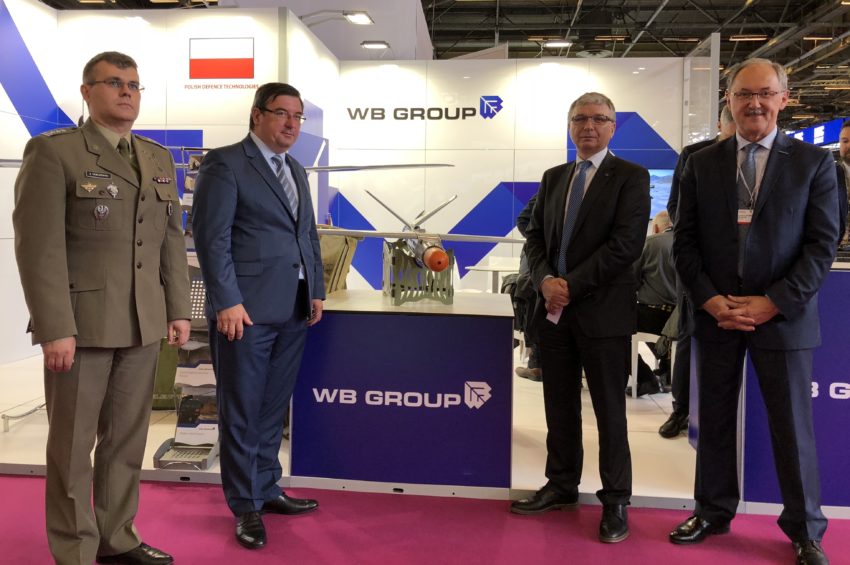 The Eurosatory exhibition, that took place on June 11-15 2018 in Villepinte near Paris is now over. WB GROUP showcased its UAV FLYEYE, loitering munitions WARMATE, command & communications systems and weapon control systems.
The Polish delegation was made up of the representatives of WB ELECRONICS, FLYTRONIC, RADMOR and AREX. The President and Vice-president of WB GROUP, Piotr Wojciechowski and Adam Bartosiewicz also attended the exhibition.
Over the course of 5 days of the exhibition that gathered thousands of companies operating in the defence and security area, the Group?s representatives have had several conversations and meetings. The products showcased at stand, especially the unmanned systems, have raised a great deal of interest from visiting delegations and experts.
WB GROUP?s stand was visited by i. a. the official Thai delegation led by the Deputy Secretary of Defence, Chief Marshall Surasak Toontong, the members of the official delegation from Lebanon, as well as members of the official delegation of the Polish Ministry of National Defence.
On the second day of the exhibition, the Ambassador of the Republic of Poland in France, Mr Tomasz Młynarski with attaché of defence, Mr Sławomir Pawlikowski have had a chance to get to know the unmanned technologies designed by the Group.
"We are pleased with this year's Eurosatory" – said Piotr Wojciechowski after the exhibition – "we are intensifying our marketing and commercial activity abroad, both in and outside Europe and so the presence at one of the largest defence exhibitions generates significant benefits for the development of the Group".