The AMSTA system is a solution based on artificial intelligence algorithms for the protection of facilities and areas crucial to the safe operating of the state, using neural networks implemented in seismic sensors and advanced image analysis algorithms from video sensors.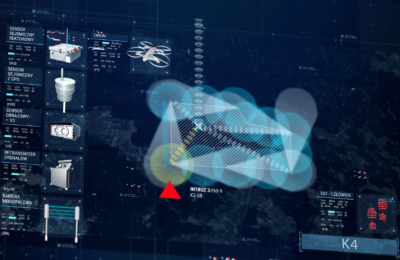 The system can be supplemented with 2D and 3D radar equipment and a fleet of FlyEye and FT-5 unmanned aerial vehicles (UAVs). UAV systems are capable of long-endurance airborne capability and are equipped with advanced object observation and reconnaissance sensors.
The AMSTA system, is available in two variants: cable (fixed) and wireless (mobile). Each can be adapted to the specific needs of the user taking into account local field conditions. In the cable variant, all sensors in the system are connected to each other via a fibre-optic network and are powered from a fixed power source. The radio communication system allows the dispatcher to share images from fixed cameras or directly from the UAV monitoring the selected area with foot and vehicle patrols in the field. Seismic sensors using algorithms based on artificial intelligence are able to filter out animal signatures from humans with very high efficiency, and therefore reduce false alarms and support image analytics. The system architecture is resilient to the effects of single failures.
MANAGEMENT CENTER
All data from seismic sensors, radars and images from cameras and unmanned systems are transmitted directly to the management centre. A specialised application, running on a ruggedised laptop or tablet, consists of functional modules designed to configure the system, modify the settings of individual system components and analyse data received from seismic sensors, radar and cameras and unmanned systems. The application continuously
receives data from the server (from all system components) and visualises it in the form of messages, warnings, videos, photos and other necessary data, and archives the current operation of the system. 
COMMUNICATION
The AMSTA system in the wired version is based on digital fibre-optic solutions ensuring secure data transmission and a fixed 230V/24V cable power supply. In the wireless version, data transmission takes place in a two-tier network: the LCS and DCS.
LCS (Local Communication System) – ensures data exchange between sensors /effectors. Maximum transmission range is up to 2000 m in an open area. Depending on the application, LCS creates communication network optionally in several frequency bands, including dedicated or special frequency bands, resulting in higher reliability and coverage ratio – regardless of the type of terrain.
DCS (Distant Communication System) – ensures two-way data
exchange between the LCS network, server and Management Centre.
DCS nodes are associated with each of the TS devices. DCS
communication is carried out via a mobile network (3G / 4G / LTE
modems) or special/closed dedicated communications using user-
assigned frequencies. Note: all data exchange in the DCS is conducted
via a server.
Communication modules – standalone, embedded in VS/radar, ensuring
communication between sensors and management centres.
AMSTA IS: 
High detection, classification and intruders recognition efficiency
Low false alarm rate
Ad hoc configurations adapted to the site, security and customer requirements
Rapid deployment and quick system launch
Anti-tamper protection
Automatic mapping of devices in the field
The ability to change the detection range at the application level
Open architecture (reconfiguration, expansion)