SDR handheld COMP@N radio
The SDR handheld COMP@N radio offers a wide range of features, such voice transmissions broadcast, MANET radio functions, and the possibility to choose between different waveforms (WF) and a range of supported frequencies.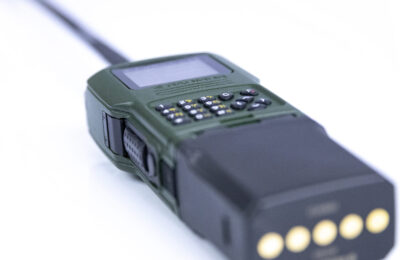 The narrowband system based on COMP@N radios
Current requirements of the modern battlefield, with all limitations of available radio ressources, determine the need to use various types of radios working with many types of waveforms (WF). Fulfilling of these expectations is a challenge that can only be achieved by a radio communication system, for which the main goal is to provide a comprehensive implementation of user's services while taking into account the limitations of the planning spectrum.
COMP@N family radios provide a comprehensive security in the range of TRANSEC, NETSEC and COMSEC mechanisms based on AES-256 algorithms and additional usage of SCIP technology (STANAG 5068).
Main features
| | |
| --- | --- |
| Data services | IP data |
| | serial data |
| | sensor data |
| | data for BMS systems —> Situation Awareness / GPS |
| Voice services | analog voice |
| | digital voice (which suports the flat and vertical structure) |
| Management services | remote (e.g. SNMP v3) |
| | local (e.g. HMI, Fillgun) |
Capability to integrate with existing infrastructure elements:
other radios
other terminal devices (e.g. user terminal)
vehicle infrastructure
wired infrastructure (e.g. LAN)
Effective extension of narrowband system
The flexibility of the system allows for its cooperation with other currently use and future radios and communication systems. In such manner the core of the system is being complemented with additional services and possible operational scenarios. These are i.e. the functionalities offered by:
VHF tactical radios e.g. 3501, F@STNET
PRR personal radios e.g. 35010, PERAD
wideband radios
satellite communications (SATCOM)
on-board communication and integration system on the vehicle e.g. FONET
crypto devices
multisystem gateways e.g. PIK
communications with the UAV e.g. FlyEye
wired network infrastructure
Accessories
Technical details SDR handheld COMP@N radio
FM/AM fixed frequency modulations
FM, AM
Transmission modes
F3E, A3E
Channel
FM: 25 kHz | AM: 8.33 kHz, 25 kHz
Dimensions (without antenna)
220 x 86 x 44 mm
Weight (with battery)
1000 g
squelch
FCS (free channels search)
a large color display
auto backlight intensity regulation
menu
double PTT button
backlit keybord
Emergency Clear button
build-in GPS receiver
frequency range 30÷520 MHz
output power up to 5 W
3 definable output power levels
suppression of harmonics: > 50 dBc
frequency stability: +/_ 1 ppm
sensitivity: – 116 dBm (SINAD 20 dB)
adjacent channel selectivity >/_ 50 dB
audio / PTT
RS232
ethernet 10/100
USB
Side Connector (to work with COMP@N accesorries)
operational temperature: -32°C ÷ +55°C
immersion: 1 m for 2 hours
MIL-STD-810G
EMC MIL-STD-461F
DW
operating modes: FH (Frequency Hopping): 100 hop/s, FF (Fixed Frequency)
digital voice transmission
RSD
channel: 25 kHz
security (AES-256 based): TRANSEC, COMSEC
pre-defined profiles with set of mission parameters (radio data, encryption keys)
W2FH
EPM (Electronic Protective Measures) class waveform: LPD (Low Probability of Detection), LPI (Low Probability of Interception), AJ (Anti-Jamming)
operating modes: FH (Frequency Hopping): 300 hop/s, FF (Fixed Frequency)
services: digital voice (e.g. MELPe 2400, CODEC2) SA (Situation Awareness) messages and GPS reports data (e.g. serial data, sensor data)
simultaneous transmission of voice, data and SA/GPS messages
SA (Situation Awareness) data and GPS data can be attached to each transmission of voice and data
synchronization without GNSS (e.g. GPS)
Radio Silence mode
modulation CPM
channel 25 kHz with possible extension
security (AES-256 based): TRANSEC, COMSEC
data rates up to 26 kb/s
definable frequency range and sub-bands
pre-defined W2FH profiles with set of mission parameters
(radio data, encryption keys)
BMS IP WF
MANET class waveform:
mobile self-configuring and self-organazing network
extended range of service (retransmission within waveform
– multihop relay)
operation in IP networks, build-in IP router, QoS supporting
operating modes:  FH (Frequency Hopping), FF (Fixed Frequency)
simultaneous voice and data services
voice services digital voice: (eg. MELPe 2400, CODEC2), group calls, priviledged users, priority calls (break-in), double PTT, multi-hop voice
data services: IP data, serial data, SA (Situation Awareness)
messages, GPS reports, short text messages, sensor data
files, video, pictures,, mail transmission supporting, data retransmission
synchronization without GNSS (e.g. GPS)
modulation:  CPM
channel 50 kHz
security (AES-256 based): TRANSEC, COMSEC, NETSEC
data rates up to 40 kb/s
definable frequency range and sub-bands
pre-defined BMS IP WF profiles with set of mission parameters (radio data, encryption keys)
sms
number of networks: 20