FT5 Tactical Aerial Platform
The standard includes a surveillance payload with a daylight and thermal imaging camera, and can be modified depending on the specific needs and intended use. The FT5 can stay airborne for 10 hours. Real-time data transmission during flight, preserving high image quality.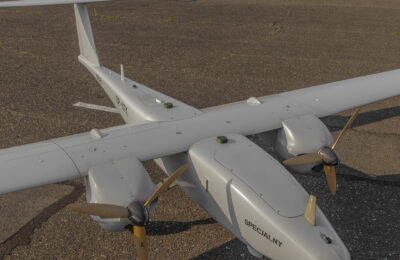 FT5 is a tactical aerial platform powered by EFI controlled, independent engines. It's designed for battlefield surveillance, observation, patrolling state borders and surveying natural disasters.
The FT-5 can be used with following flight modes:
Flight Plan
An automatic flight following waypoints according to a flight plan made of
a set of defined geographic locations named waypoints. The path that is
followed by the UAV can be modified at any moment, both prior and during
the mission.
Camera Guided
The UAV moves in the direction that the camera is facing. This mode is
especially useful for following moving targets.
Manual
Control by the operator. The camera angle is fixed pointing forwards and the
operator controls the flight direction of the UAV. Turns are controlled by the
autopilot ensuring that operation is within safe boundaries. For enhanced
safety, this mode automatically switches down if there is no operator input
for a certain amount of time.
Return
An emergency flight mode. This mode is automatically started after the
loss of radio contact or GPS reception and makes the UAV fly to a preprogrammed
point. It is only possible to re-initiate the flight plan following
the re-establishment of radio contact between the GCS and the AV.
Take-off
Procedure is fully automatic. The air vehicle uses typical runway to speed up.
After achieving desired velocity, the AV perform rotation and starts climbing.
On 50 m altitude, the procedure finished and the AV begins the flight plan.
Landing
Procedure is fully automatic. Upon arrival at the descent area, the AV
lowers the flight down to 100 m and continue to short final. The AV touches
down on the pre-determined point and runway direction.
Technical details FT5 Tactical Aerial Platform
Engine
EFI controlled independent engines
Maximum ceiling
5000 m AMSL
Capable of carrying ordnance.
Radio communication range up to 150 km LOS.
Simple operation, logistics and handling.
Modular design for easy transport of disassembled system into modular components.
Sensor and fitout modification possible.
High available MTOW
Long-range surveillance and target tracking capability.
Real-time data transmission.
Precision laser distance-measurement sensors to object.
Flight path pre-programming with capacity for flight path changes while airborne.
Digital connection for bidirectional transmission of flight control parameters, data and video imaging.
Real-time video signal reception and telemetry data transmission to GCS (via transmitting/receiving station).
Secure, encrypted data transmission.
Control can be taken over by distant station, increasing its practical operational range.
Unmanned aerial vehicle
Ground control station (GCS)
Communication equipment
Runway take-off