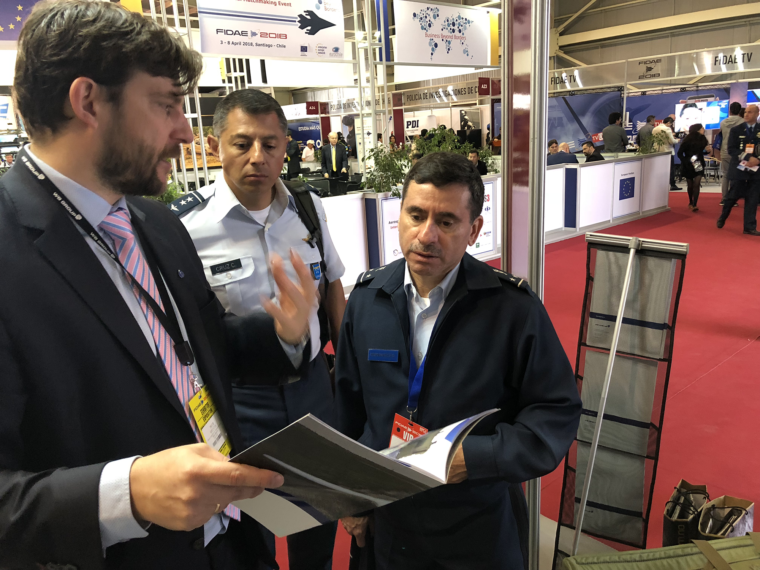 WB GROUP's technologies premiered in the region at FIDAE 2018 – the largest International Air and Defence Fair in South America that takes place in Santiago de Chile.
Among the representatives of the Armed Forces from the region who visited WB GROUP?s stand, was the Commander of the Guatemalan Air Force, Brig. Gen. Timo Hernández Duarte.
The visitors had a chance to get familiar with the characteristics of unmanned aerial systems FLYEYE and ?The Moose? as well as WARMATE loitering munitions.
Solutions in the field of unmanned technologies offered by WB GROUP as well as the communications and command systems have raised a lot of attention from the participants.
Over the course of the 6 days of exhibition, WB GROUP?s technologies were showcased to the representatives of Armed Forces, Emergency Management and official delegations in Latin America, as well as to entrepreneurs representing mining, forestry and telecommunications sectors.
WB GROUP?s stand was also visited by the Polish Ambassador in Chile, Jacek Gawryszewski and Air Force Inspector, Brig. Gen. Miroslaw Jemielniak on his official visit to Chile.
The last two days, opened to the general public, gathered the enthousiasts of aviation and military technologies, who could get familiar with the Polish technologies.