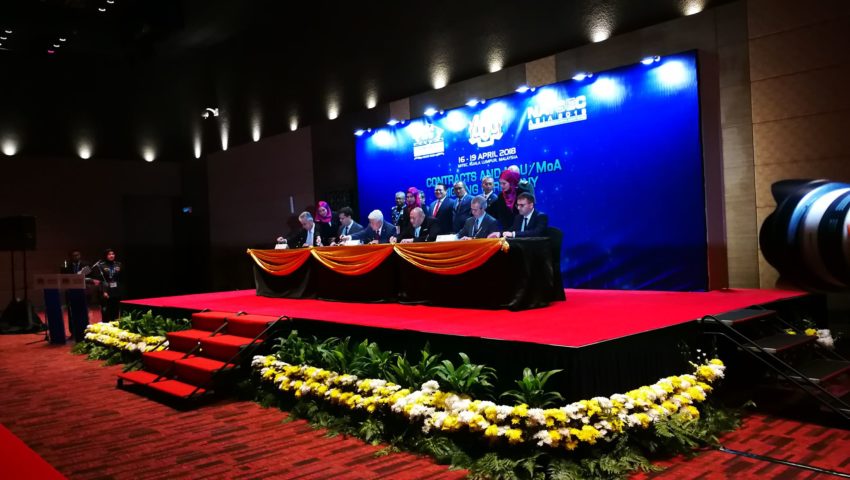 On the 18th of  April 2018, WB GROUP (WBG)  from Poland, represented by WBE TECHNOLOGIES Sdn Bhd (WBET), Malaysia, officially signs the offset agreement for the Transfer of Technology (TOT) with the MINDEF MALAYSIA and DRB-HICOM DEFTECH Sdn. Bhd .
Together with the signatories from Mindef Malaysia and DRB-Hicom Deftech Sdn Bhd the offset agreement was signed by Piotr Szymczak – General Director of WBE Technologies.
Malaysia has always been perceived as a prestigious and absorptive market in the defence sector – said Piotr Szymczak – the offset agreement means not only providing WB Group?s innovative solutions to the Malaysian Army, but also strethening the bilateral cooperation between the two countries in the defence sector.
We are happy that our systems are quickly becoming renowned globally and that we continue to the Polish-Malaysian cooperation with WBE Technologies. Enhancing cooperation within defence industries and sectors has always been important for both parties. This is another example of how the well thought-off and long term strategy aligned with the cooperation with the local partners have a tangible result for the Polish economy and the economies of our overseas partners – commented the President of WB GROUP, Piotr Wojciechowski after the signing ceremony.
WBG has begun its marketing activities on the Malaysian market in 2008, offering its solutions in the field of the communications systems (FONET Tactical Digital Intercom Communication System) and RADMOR 35010 personal-role Wireless Intercom Terminal (WIT) system to the national AV8 Gempita armoured vehicle programme.
WBG has been the leader of technological transformation in the Polish defence sector. Operating in the field of electronics, communication, command and control, the company has led the Armed Forces of Poland into the 21st century, setting binding standards in key areas for national security and defence.
Following the market development policy and as a continuation of their activities in Malaysia, WB GROUP has opened their own regional office and company in Malaysia, focusing on warranty servicing, spare parts supplies, ILS, MRO and active involvement in the offset programme.
The agreement stipulates the creation and further development of MRO, ILS and develops a bilateral cooperation within the area of Unmanned Aerial Vehicles system and solutions, together with the experienced and professionally prepared Malaysian partners.
WB GROUP represented in Malaysia by WBET – WBE TECHNOLOGIES Sdn Bhd, located in  Kuala Lumpur. WBE TECHNOLOGIES Sdn Bhd (WBET) is designated by WB GROUP to actively take part and coordinate the offset and ToT programmes for the local defence industry. The second important field of activity of WBE TECHNOLOGIES are marketing and promotional actions on the Malaysian market and in the countries of the region.