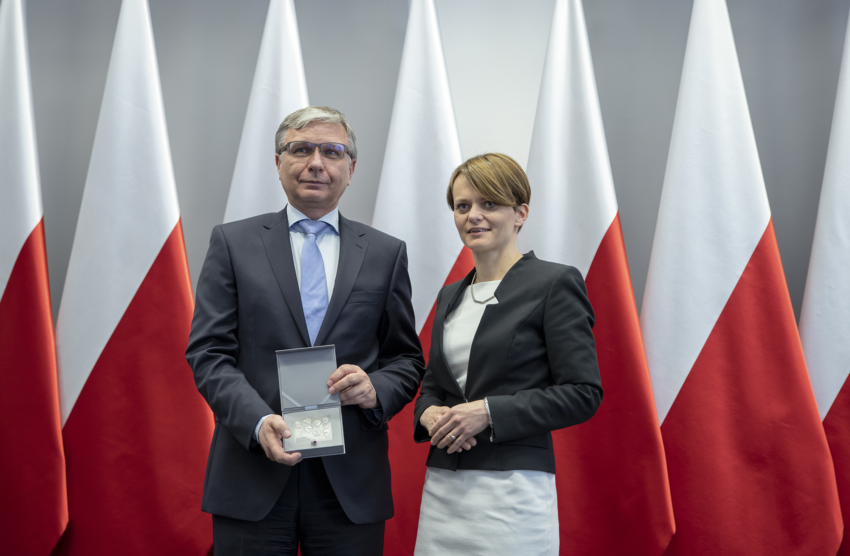 Piotr Wojciechowski – President and co-founder of WB GROUP – was awarded by the Prime Minister of Poland Mateusz Morawiecki with the Medal of Poland's 100th Independence Anniversary in recognition of his contribution to the Polish economy. The medal, awarded as part of the celebrations marking the anniversary of Poland regaining its independence, goes to the individuals who have contributed to building civic community and the country's economic well-being.
The ceremony took place on May 8th at the headquarters of the Ministry of Entrepreneurship and Technology, and the medal was presented by Minister Jadwiga Emilewicz on behalf of the Prime Minister of the Republic of Poland Mateusz Morawiecki.
The Medal of Poland's 100th Independence Anniversary is granted during the celebrations marking 100th anniversary of Poland regaining its independence. It goes to living individuals who – through their impeccable public service, civil or military, the fight for independence and activities for democratic change, professional and social activity, scientific, literary and artistic work – have contributed to regaining or strengthening Poland's sovereignty.
Piotr Wojciechowski, co-founder and President of WB GROUP is a graduate from Warsaw University of Technology, Faculty of Electronics and Faculty of Electrical Engineering. Outstanding engineer, whose inventions have revolutionised the functioning of the Polish army, he has participated in numerous projects relating to the modernisation of the army, including the creation of complex communications and control and command systems. Author of approx. 100 electronic and IT products. His mission is to promote national economy, support Polish companies' growth and strengthen their position in global markets.
"Today we are the second fastest-growing economy in Europe, which many countries from Europe and other parts of the world envy us. This success would not have happened without its creators – the Polish entrepreneurs. I would like to thank you sincerely on behalf of the whole generation and the ones to come, because you make us proud to be Polish" –  said Jadwiga Emilewicz, the Minister of Entrepreneurship and Economy – "I would also like share with you that the Prime Minister Morawiecki has personally approved each candidate".
"I am proud and humbled by this prestigious medal" – said Piotr Wojciechowski after the ceremony – "WB GROUP demonstrates that success can go hand in hand with the economic patriotism. Poland has knowledge-based workforce and export potential. The private sector should be supported by the State, including the Ministry of Defence, the Ministry of Foreign Affairs and economic ministries. It is crucial to achieve economic success".