The first military exercice with FLYEYE and WARMATE systems successfully completed
31 May 2018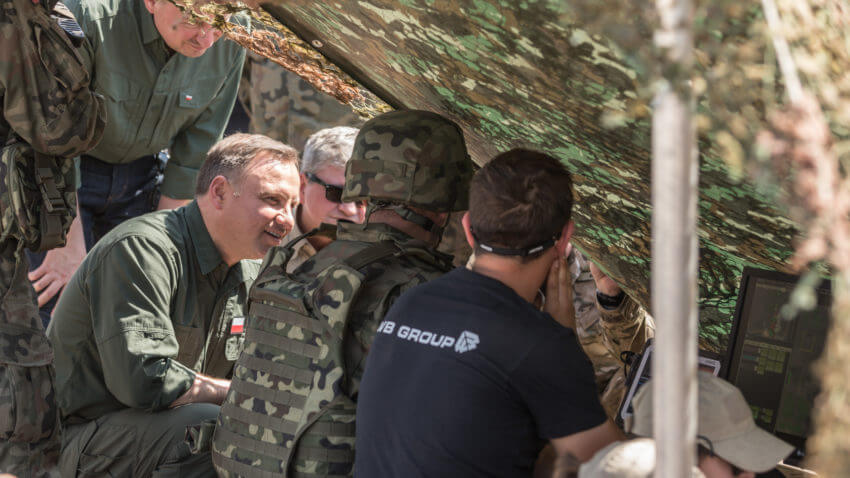 A collaborative exercise between the Polish Territorial Defence Force and Land Forces took place in the Nowa Dęba military shooting range on May 30th 2018. The exercice was carried out by General Command of Branches of Armed Forces, 21st Brigade of Podhale Shooters and 3rd Podkarpacie Territorial Defence Brigade. The maneuvers of platoons have been watched by the President of the Republic of Poland, Andrzej Duda, the Minister of National Defence, Mariusz Błaszczak and the representatives of the Polish Ministry of National Defence. The president of WB GROUP, Piotr Wojciechowski also attended the presentation.
The demonstration for the President commenced with the combat flight of the loitering munitions system WARMATE, carried out by newly certified operators from the Polish Territorial Defence Force, whose combat mission was to eliminate hostile reconnaissance and diversion units. After accomplishing the target detection task by the mini BSP FLYEYE, two combat flights have been performed, with use of EO-fragmentation charge warhead. In both cases, the destruction of targets has been confirmed.
"We are pleased and very proud that we could support the Polish soldiers in this collaborative exercice of two branches of Armed Forces" – said the president Piotr Wojciechowski in his comment after the completion of the flights. The demonstration continued with presentation of collaboration between the Territorial Defence Force light infantry units and the Polish Land Forces mechanised units.
The President Andrzej Duda stated in his comment: "Very good exercice, I have to say that I am very impressed by the training and experience of the Polish Territorial Defence soldiers and by their equipment".