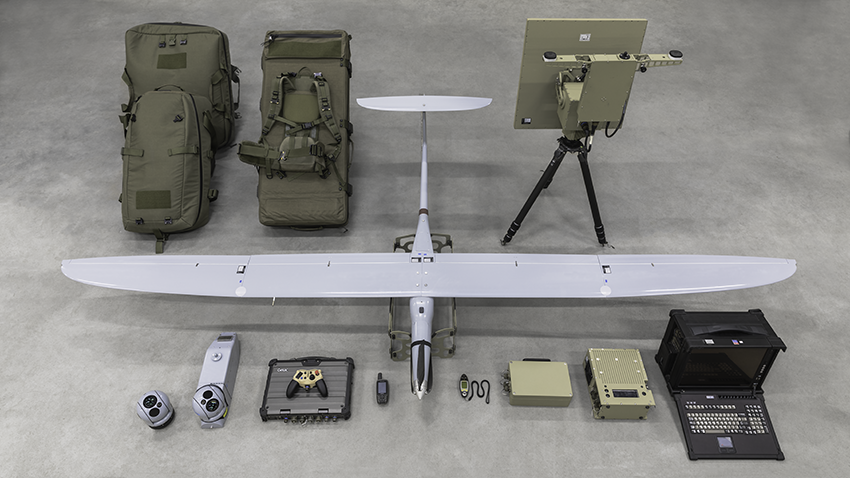 WB Group signed a supplemental agreement with NATO Support and Procurement Agency (NSPA), for upgraded versions of the in-service FLYEYE UAS Fleet. These upgrades include user-friendly solutions to increase the interoperability of the Polish Army by standardizing configuration and replacing the existing equipment with the up-to-date substitutes.
With the first upgraded sets already delivered to the Polish Armed Forces for operation, the FLYEYE has successfully passed the inspection by NSPA, both in terms of equipment and documentation. Designed to meet the needs of customers, each FLYEYE system is supplemented with two repair kits. In addition, the program includes delivery of the I-Level repair sets. WB Group will also provide alignment trainings and support for the UAV operators and I-Level maintenance on an on-going basis.
FLYEYE, currently used by the Polish Armed Force and other services, is a UAS, that is used for intelligence, reconnaissance, surveillance and target acquisition (ISTAR) of the battlefield, sensitive areas, national borders, natural disasters or large public events and successfully performs combat missions in symmetric conflicts.
FLYEYE is a modular system characterized by the ease of assembly and disassembly. Launch readiness can be achieved in less than ten minutes. Hand-launched, with no additional equipment, allows for it to be operated in tight spaces and confined area.
The enhanced version is characterized by the increased system performance and longer flight endurance, up to 150 minutes. Other new features include a GCS with antenna, the GS4 daylight and IR observation payload and reduced weight for longer time on station. Additional features are the tactical and maritime antennae, the FT-LoC2 GPS based long range emergency location and recovery device, MIL connectors in the entire system, new backpacks and transportation cases.
"We're proud to help the Polish Army provide world-class, battle proven reconnaissance capability," said Piotr Wojciechowski, president of WB GROUP. "This delivery, along with our previous orders, means our solutions meet the highest NATO standards".
The final delivery is due by the end of 2020.