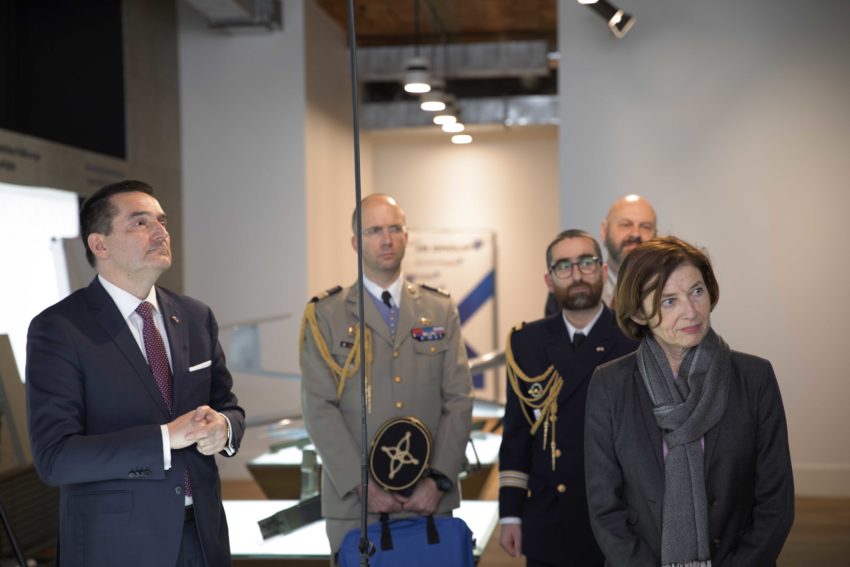 On February 3 2020, the French Minister of the Armed Forces, Florence Parly visited WB GROUP's headquarters in Warsaw.
The Minister met with the WB GROUP's vicepresident Adam Bartosiewicz, the representatives of WB GROUP and the French and Polish branches of Thales Group: Hervé Multon and Paweł Piotrowski. Florence Parly's arrival to Poland was part of the official visit of the president of the Republic of France, Emmanuel Macron.
This meeting gathered teams that have been working together for the past 25 years in a joint effort to build industry and military tied between France and Poland" – said Adam Bartosiewicz, the vicepresident of WB GROUP – "Thales and Radmor have built history together, setting the perfect example of a partnership that has endured and strenghted over time".
WB GROUP was the only Polish company visited by the head of the Ministry of the Armed Forces. A WB GROUP subsidiary RADMOR company has been cooperating with the French defence industry in the field of the radio communications systems for over 25 years.
Florence Parly had the opportunity to listen to the presentation on secured digital communication military systems of the future. Members of the meeting also discussed the history and future of the Polish-French defence industry cooperation, in particular within the European Secure Software Defined Radio (ESSOR) programme.
Another topic discussed at the meeting was the collaboration of WB GROUP and Thales to offer to the Polish Armed Forces enhanced solutions, such as providing a full maintenance for F@stnet radios and additional equipment, software tools, as well as developing the Polish National Mobile Platform proposal
of additional channel, fully interoperable with F@stnet radio.