The Polish Territorial Defense Force soldiers completed the first FLYEYE UAV flight operations training.
5 November 2019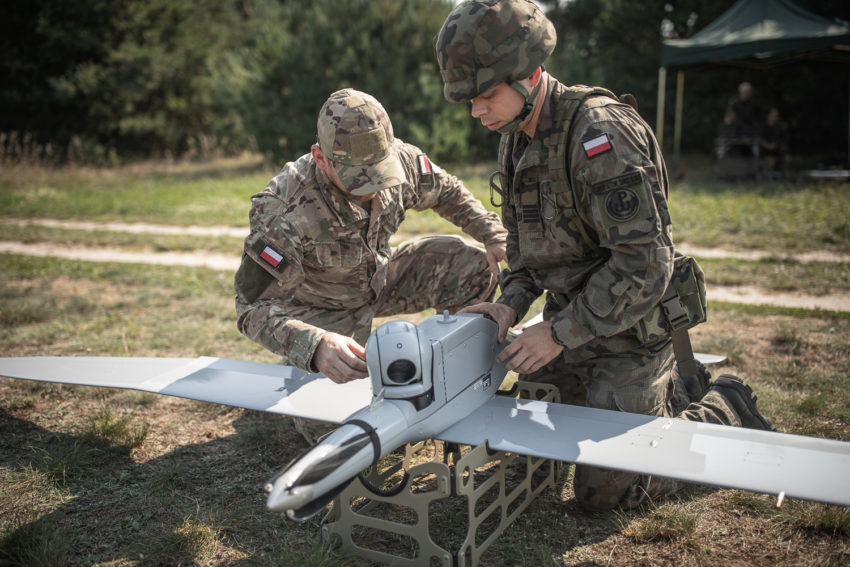 The modernized FlyEye observation systems were supplied under the contract between WB GROUP and the Armament Inspectorate of the Polish Ministry of Defence. The UAVs will be deployed in January 2020 to support the Polish Territorial Defense Forces and reinforce the reconnaissance capabilities in the crisis and disaster management process.
The use of the unmanned technologies, gathering real-time data, and widespread connectedness means more efficient and necessary information flow & immediate information on the most damaged areas of a city or locations of where people remain stranded.
The FLYEYE is a modular system characterized by the ease of assembly and disassembly. Launch readiness can be achieved in less than 10 minutes. Hand-launch with no additional equipment which allows it to be operated in tight spaces and confined areas. The observation head with two cameras (visible light and IR) attached under the fuselage provides significantly better observation options and a function for rapid switching between the two video feeds.
Over the course of several months, the Territorial Defence soldiers have been trained by the experienced WB GROUP's instructors. The FlyEye mini UAV is a user-friendly system and no prior aviation experience is required. WB GROUP provides a tailored program, which consists of lectures, simulation training, and outdoor flight exercises that introduce students to progressively more difficult navigational tasks and scenarios. The first flights were carried out at the Military University of Aviation in Dęblin.
"These UAVs will provide the Territorial Defence Forces with the reconnaissance capabilities necessary to conduct the rescue missions. The FLYEYE UAV can replace hundreds of soldiers operating in the field, including at nighttime." – underlined the Territorial Defence Forces' speaker, Marek Pietrzak.
"It's another WB Group's solution, after the WARMATE loitering munition systems,  that is supporting the Polish Armed Forces. We are proud to help the Army provide world-class, battle proven, reconnaissance capability that can be used also in rescue missions" – said Dawid Bielecki, Board Member of Flytronic | WB GROUP, the manufacturer of the system.
Photos: Courtesy of the Polish Territorial Defence Forces