FTR-2 radio ensures continuous communication and data transmission between the UAV and the operator's station on the ground, over the distance of 180 km.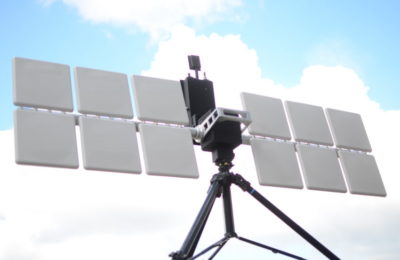 For this purpose a common channel for high-bandwidth data transmission is used, which transmits data from UAV sensors (e.g. HD video or SAR feeds) and flight control information to the UAV.
Frequency hopping and programmable frequency change techniques make harder for the ennemy to jam data tranmission between the UAV and the operator's station. The built-in encryption module, on the other hand, ensures safety of the transmitted data. It features a redundant, diversity antenna system with automatic frequency search and recovery function, which recovers communication after a power failure.
Guaranteed operational range of up to 180 km.
C Band (NATO standard)
Redundant, multiple transceiver system.
Automatic data search and recovery
High bit rate transmission of HD and SAR sensors.
Use of the common channel for sensor data transmission and flight control.
"Frequency hopping" technology
Built-in encryption module
Possibility of operation in a passive mode
The radio set includes:
ADT- Air Data Terminal
GDT Ground Data Terminal
ADA Airborne Directional Antenna Tracker