MDS Mulitiuser Dispatching System
The system consists of computers with MDS application, servers (database, charts, SIP), radio base stations, radios from different manufacturers, smartphones with the TetraFlex application and internal localization markers.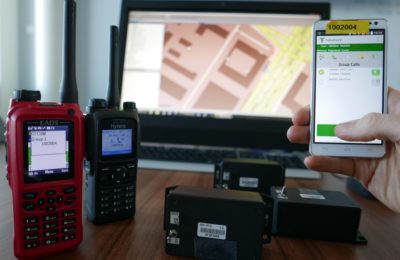 The most important feature of the application is modularity and the fact that almost all modules available in MDS are independent and can be used according to the client needs. This means that it is not necessary to use every functional module together, and that the appearance and operations of the system is determined by the installed plug-ins. This enables flexible, time or quantity, licensing; or licensing of specific functionalities and not immediately the entire application.
The MDS application, thanks to its modularity, can provide only those functionalities that the end user really needs. The client has many options:
? Internal and external localization
– location of users on the geographical map (including the possibility of determining the position accuracy in meters)
– additional vector layers on the map (adapted to the client's needs – additional buildings, fields, technological areas)
– localization inside buildings (localization at different levels of the building, technological plans, situational plans)
– graphic presentation of the User's icon by type, state (including alarms) and current colour that indicates group membership
– simultaneous presentation of indoor and outdoor localizations
– registration and overview of historical paths of all Users (inside and outside)
– warning about user entry/exit of pre designated geographical zone
? Comprehensive communication
– text / status communication (data transmission) in radio systems: TetraFlex, DMR Tier II
– voice communication (full duplex, half-duplex, simplex, broadcasting simplex) in radio systems: TetraFlex, DMR Tier II
– registration and review of historical text and voice conversations
– support of the groups and list of users
– the ability to dynamically modify the content of groups directly in the application
– VoIP telephone communication (SIP protocol) – integration with PBX / PSTN central units
? Additional features
– tabular reports (with the possibility of exporting to a file) for: localization markers, radiotelephones, network devices
– identifying users on radiotelephones (aliasing, logging in / out)
– event notification center (including configurable sounds)
– operational scenarios (automatic modification of group assignment, automatic authorization and serial sending of messages to radiotelephone users)
– dispatcher profiles (individual permissions and settings assigned to a specific login and password of the dispatcher)
– security zones (monitoring of users entries and exits of pre define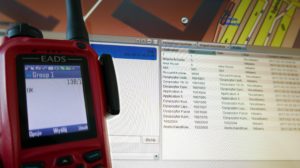 d geographical areas)
– automatic monitoring of the patrol squads (according to a defined route and at a specific time)
– ensuring 24/7 work continuity (monitoring the application status and simplified reporting of failures or errors)
Minimum requirements:
Operating system supporting Java, e.g.:
Windows 7,8,10 (recommended 64-bits)
Linux (recommended 64-bits)
Mac OS (recommended 64-bits)
Operating memory RAM 2GB
File database H2
Windows 7,8,10 (recommended 64-bits)
Operating memory RAM 4GB
PostgreSQL server database
Java runtime environment (JRE) version 1.8.0_111 (the latest version of Java 8 PSU is recommended).
A JRE installation is required that is compatible with the operating system architecture; for 64-bit systems, use the JRE 64-bit environment.
Available hard disk space above 200 MB (plus additional space for the database)