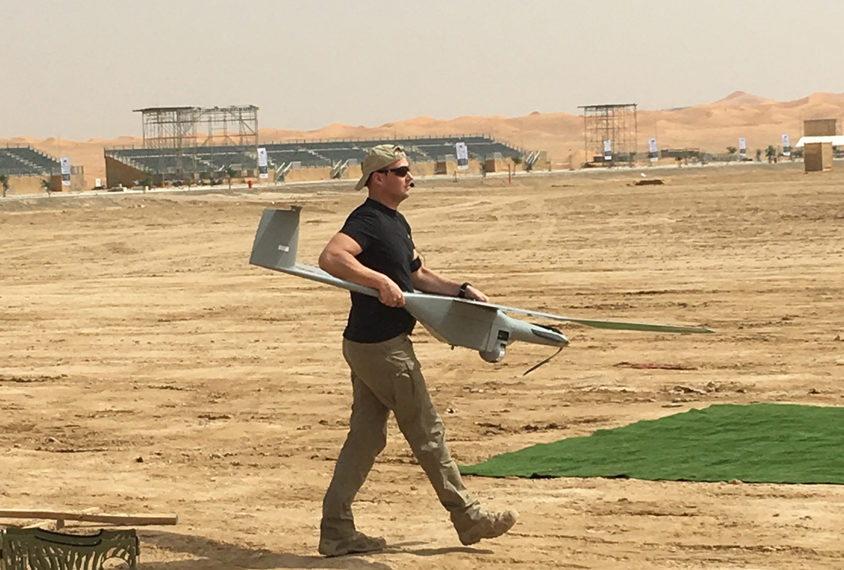 The Abu Dhabi desert have seen the official UAV FLYEYE airshow that capped off WB GROUP's exposition at UMEX 2018, the largest conference and exhibition for unmanned systems.
UAV FLYEYE is a modular system characterized by the ease of assembly and disassembly. Launch readiness can be achieved in less than 10 minutes. Hand-launch with no additional equipment which allows it to be operated in various areas.
Landing of the system consists of automatic ejection of a container holding the batteries and the surveillance payload, which descent and land via parachute. That ensures maximum security of the payload. The accuracy of landing remains within a range of 5 metres from the payload landing point. The airshow featured a live commentary by a representative of the FLYTRONIC design team.
Both take-off, landing and the ejection of the payload were transmitted in HD directly from the airctaft on jumbotron set up in the sand for viewing by the invited guests.Among the spectactors were i.a. the representatives of UMEX, United Arab Emirates Armed Forces and the official delegation of the countries from the Persian Gulf.
The airshow was a complete success and UAV FLYEYE has once again proven that it can be used in any conditions.