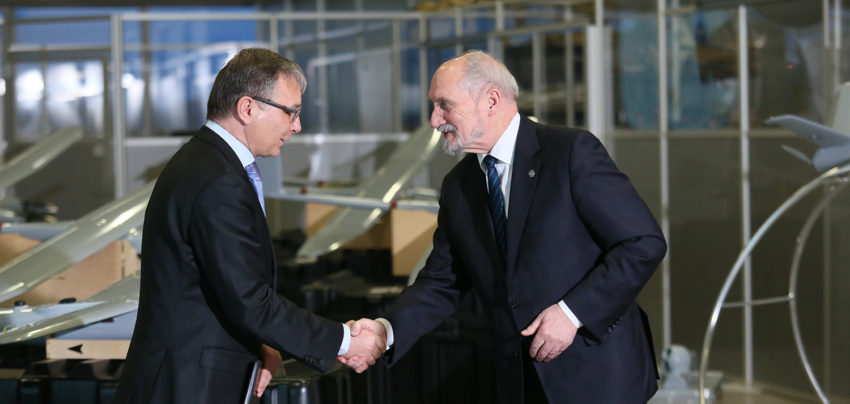 On Monday November 20, the agreement has been signed for supplying the Polish Army with one of the most advanced armements, loitering munition WARMATE.
In accordance to the agreement's provisions, the signing by the Commander of military unit NIL, Col Mirosław Krupa, representing the Ministry of Defence, and president Piotr Wojciechowski, representing WB GROUP, took place in the presence of the Minister Antoni Macierewicz at WB GROUP's headquarters.
Currently only a few countries in the world develop this type of weapon. Apart from Poland, loitering munition is being manufactured in the United States and Israel. WARMATE premiered at DSEi in London in 2015 and, according to Director of Research and New Technologies, Wojciech Komorniczak, the system is ready for series production.
The system designed by Polish engineers in WB GROUP have received a great deal of expert's attention at the largest defence sector exhibitions in the world, i.a. DSEi in London, IDEX in Abu Dhabi and AUSA in Washington.
Since its premiere in 2015, WARMATE has been implemented in armies of several countries. One of the system's users are special forces of one of the NATO countries, where it proved its effectiveness in the conditions of a contemporary battlefield.
Thanks to the agreement, one of the most advanced systems in the world will likewise supply the Polish Armed Forces.
I am pleased to inform you that the promise of delivering one thousand drones to the Polish Army I made one year ago, will soon be fulfilled. We have a year of difficult negotiations and tests behing us, but thanks to today's agreement, Polish soldiers will get the first sets of this modern system before the end of this year. These systems will significantly increase their combat capabilities – said the Minister of Defence, Antoni Macierewicz at the ceremony. The set purchased today will in the first place get to NIL Military Unit, where they will be used to train and develop procedures of use. After that, they will supply other units, including operational forces of the Polish Army.
We are pleased that, after communication systems FONET and Automated Fire Control System TOPAZ, another system designed by WB GROUP engineers will supply the Polish Army. WARMATE will make use of the new recongition device and the ability of precise strike againts light armoured vehicles, fortifications and infantry. This will shorten the time of fire reaction (sensor-to-shooter) and increase the effectiveness of the armed forces. These solutions, according to multi-domain battlefield, are being developed by global defence leaders – said Piotr Wojciechowski, President of WB GROUP.
WB GROUP has been delivering the most advanced military technologies to the Polish Army for a period of over twenty years. Apart from Poland, among WB GROUP's partners are armed forces of several countries, such as the United States, Sweden, Hungary, Malaysia.