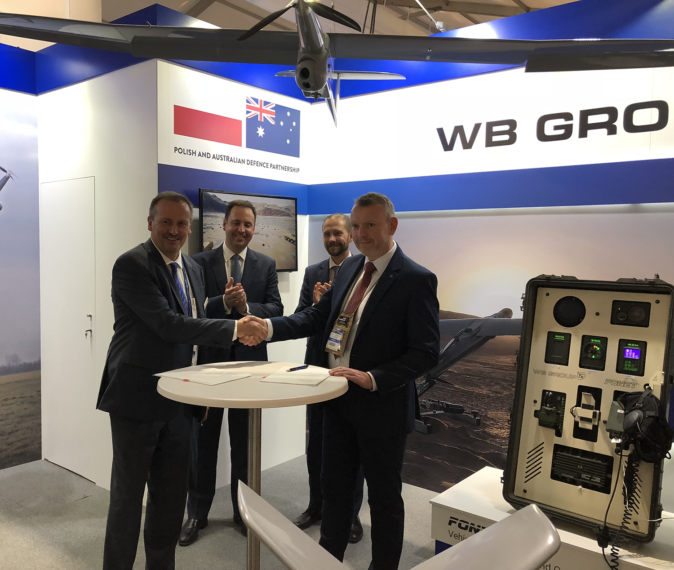 WB GROUP is pleased to announce that it has signed a formal distribution agreement Australian partner, CABLEX, to offer WARMATE, a loitering munition, combat unmanned aerial system (C-UAS).
The agreement with CABLEX stipulates that the Company will be the local systems integrator and distributor of WARMATE in Australia.
In November 2017 in Poland, Minister Pyne witnessed the signing of an Agreement between Australian defence SME Cablex and WB Electronics (WB), Poland's leading developer of unmanned air vehicles and loitering munitions.
Since then, the two companies have explored possibilities to collaborate to meet emerging ADF capability requirements for autonomous systems, based on world-leading WB designs, adapted and enhanced by Cablex to provide underpinning and improved Australian sovereign capabilities, particularly in the emerging area of loitering munitions.
Cablex and WB have now finalised an agreement to focus on an Australianised version of the Warmate loitering munition of which WB has sold over 1,000 systems which are now in operational service with Poland, Ukraine, and other nations in Europe and Asia.
"We are pleased to offer Australia's defense forces with a high-quality loitering munition" – said Piotr Wojciechowski, the president of WB GROUP. "The agreement means not only provides the Australian military with aerial detection and strike capabilities, it also strengthens the bilateral cooperation between the two countries in the defense sector".
Loitering Munition System WARMATE is designed by WB GROUP in order to support overwatch and strike operations against enemy personnel and light armored vehicles. The system supports the operator during totality of mission phases. There is a special guidance tool facilitating the target aiming phase when the warhead is in ARMED mode.
The cooperation between WB Group and CABLEX is effective immediately and is an extension of the agreement signed between the two companies in 2017.