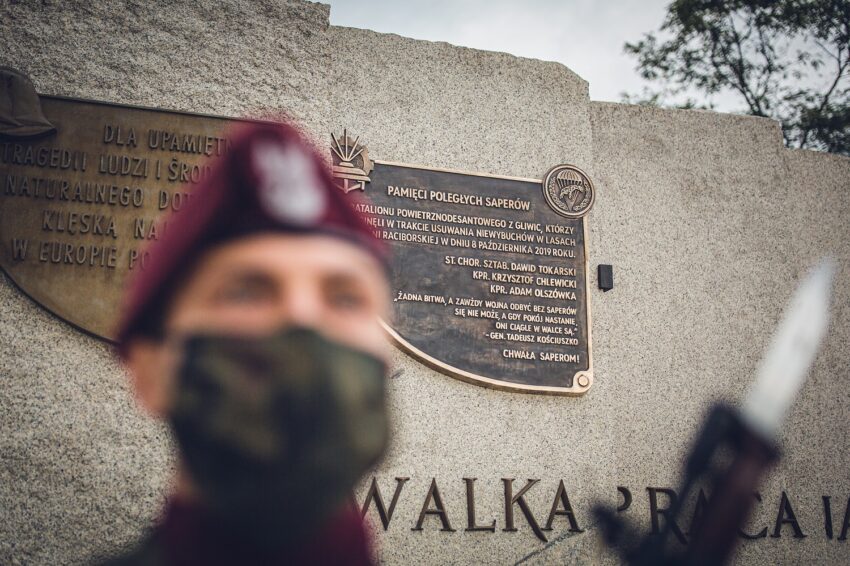 On October 9, the representatives of WB GROUP took part in the ceremonial unveiling of a commemorative plaque in the town of Kuźnia Raciborska, in memory of the tragically fallen sappers from the 29. Demining Patrol of the 6. Airborne Battalion.
The Invictus Veteranus Foundation, the 6. Airborne Battalion from Gliwice (part of the 6. Airborne Brigade), and Kuźnia Raciborska commune have joint forces to commemorate the soldiers and organize the event.
GROUP WB has partly funded the memorial plaque, which was embedded in the Victory Monument. The memorial plaque, embedded in the Victory Monument located in the town's central square, has been partly funded by WB GROUP. It was placed next to another plaque, commemorating the largest forest fire in Europe in 1992. Three sappers from the 29. Demining Patrol – senior staff ensign Dawid Tokarski, corporal Krzysztof Chlewicki and corporal Adam Olszówka – died on October 8, 2019 while defusing the illegal ordnance from the Second World War in the forest near Kuźnia Raciborska. Another three patrol soldiers were seriously injured and they are still in recovery.
The fallen sappers have been posthumously awarded the honorary badge "For demining the country" by the Polish Sappers Association, accepted by the soldiers' wives.
The ceremony of unveiling the plaque has been attended by families and representatives of the army: the commander of the 6 Airborne Brigade, Brigadier General Grzegorz Grodzki, Inspector of Military Types, Major General Sławomir Owczarek, head of the Planning and Programming Management of the Armed Forces in the General Staff of the Polish Army, Brigadier General Szymon Koziatek, Chief Of the Military Engineering Board, Colonel Marek Wawrzyniak, Commander of the Gliwice Garrison Colonel Wojciech Gębka and representatives of the Territorial Defense Forces.
Local government officials have also appeared at the square, incl. Mayor of Kuźnia Raciborska Paweł Macha, vice-mayor Sylwia Brzezicka-Tesarczyk, starost Grzegorz Swoboda, chairman of the city council Gerard Depta, as well as representatives of the Fire Brigade, State Forests, Police and scouts.