FLYSAR is a tactical, unmanned aerial systems featuring simple logistics and operation. It is designed to carry a relatively heavy operating payload on an unmanned aerial vehicle.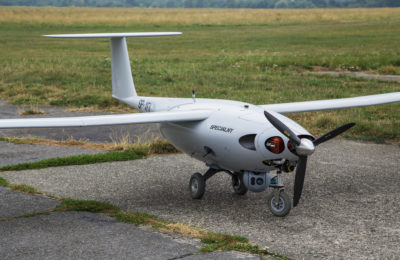 An integrated digital data link ensures continuous real time communication between the computers on the ground (Control and Operation Station, Data Analysis Station, external elements of the C4ISR systems) and the aircraft.
The airframe was entirely made of the latest composite materials, vacuum shaped in negative moulds. The use of carbon fibre for the majority of structure resulted in low platform mass, with high resistance to in-flight G-loads. Mission plannind and contro lis being carried-out throught the flight control station. The pre-defined route can be modified in-flight during the mission.
The system features universal mechanical, electrical and software interfaces which support connection and control of any sensor, and transmission and recording of reconnaissance data.
Features can be modified according to individual needs.
Technical details FLYSAR tactical UAV
Max. takeoff weight
110 kg
Powerplant
internal combustion engine
Takeoff type
from a concrete airstrip
Load versatility
Easy to use, whilst maintainng bigger airframes' carrier capacities
Integration with large-size sensors
Possibility to pre – define the flight route and modify the flight route in-flight
Real – time receipt of video imaging and transmission of telemetric data to a Light Ground Control Stations (via transceiver station)
Digital connection for a bidirectional transmission of flight control parameters, data and video imagingCommunication system working in harmonised NATO military frequency bands
The entire system requires handling by two operators