Upgrade kit for 23mm anti-aircraft twin-barreled autocannon ZU-23-2
The modernization, the autocannon gives it the new innovative features. Thanks to controlled digitally electric drives (with emergency manual drive) it is possible to achieve both precise guidance and high-speed gun movement.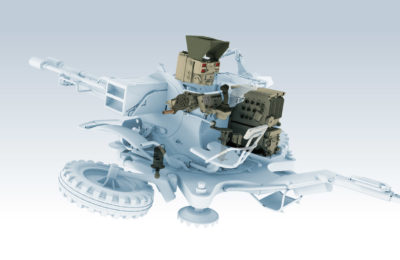 Guidance can be carried out by operator using a joystick or automatically from the external fire control system (FCS). Electromechanical Equipment ARM-28 cooperates with modern optoelectronic sights that allow shooting with both traditional ammunition (OFZT, BOD) and modern sub-calibre ammunition APDS-T. The control panel enables programming of no-shooting zones in azimuth and elevation. The electromechanical equipment has a modular construction that offers significant advantage by allowing both easy and rapid integration of new hardware functional blocks and quick field repair.