Mobile Flight Control Station NSK
Mobile flight control station NSK is a highly independent and ergonomic unit enabling effective mission's execution. The station ensures operation of various types of UAVs manufactured by FLYTRONIC.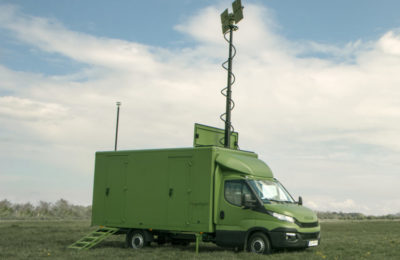 Mobile flight control station is equipped with two independent and complementary operators workplaces.
The heating and air-conditionning systems ensure comfortable operation under all climatic conditions. The station is equipped with integrated connectivity systems that ensure communication with other units operating in the field and with higher levels of command.
The connectivity systems and a dedicated meteorological station ensure full situational awareness crucial for effective execution of UAV's mission.
The communication with UAVs in real-time is provided by a folding 6 metres antenna tower. The integrated radio enables up to 180 km connectivity range.
Two redundant operator stations
The possibility of division into pilot's and image analyst's positions.
Integrated connectivity system
Automatically folded 6 m antenna tower
Radio range of 180 km
Own meteorological station
Own power supply – built-in generator
High level of ergonomics of use
Possibility to operate in various weather conditions
Operation of all types of UAVs designed by FLYTRONIC
Possibility of integration with the client's UAVs.