NSK-B Flight Control Station
NSK-B flight control station is a stationary, ergonmic unit built on 20FT container. The contruction os the conteiner ensures data security. The station can be adapted to the client's requirements.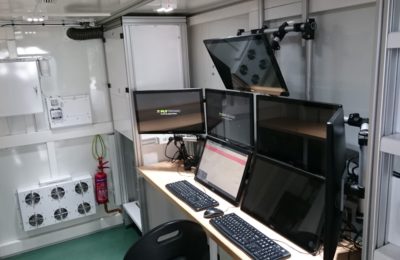 NSK-B Flight control Station has two redundant and independent operator's stations.
The heating and air conditionning systems ensure good comfortable conditions for operators in all weather conditions.
Integrated communication systems and own meteorological station ensure situational awareness on battlefield and communication with other units in the field and with higher command units.
Communications with UAVs in real-time is ensured by the autonomous communication station.
Two redundant operator's stations
Possibility of division into pilot's and image analyst's station
Integrated communication system
External autonomous communication station
Range of 180 km.
Own meteorological station
External power supply – built-in generator
Internal emergency power supply
Podwyższona ochrona danych.
High user ergonomics
Possibility to work in various climatic conditions
Operation on all types of UAVs designed by WB GROUP