PERAD 6010 Tactical MANET Radio
A low power spectral density of the communication signal, frequency hopping and built-in encryption algorithms provide an effective barrier to prevent unauthorized signal detection and capture. Smart solutions reduce power needs and energy saving functions enable days of operation.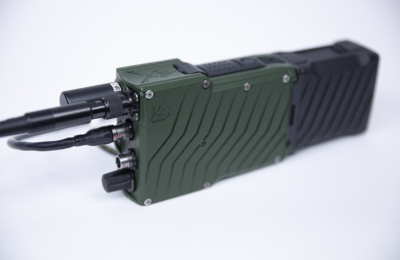 The software designed by WB GROUP supports a wide range of interoperability standards, allowing commanders to share situational information with coalition partners.
Each radio serves as a network node or a miniature base station supporting other nodes within the interactive network. As a result, all system elements, including the most remote points of the network, have reliable access to data transmitted within the system, providing the most advanced ICT infrastructure functionalities required whenever the use of the standard networks is not an option. Full feature multi-user conferencing, straightforward operation, superb ergonomics and reliability make PERAD an outstanding high-performance product for military [and commercial] applications. A combination of excellent sensitivity and selectivity, built-in intelligent anti-jamming algorithms and self-configuring MANET network make PERAD a true enabler providing a full range of new interoperability capabilities.
The PERAD radio can be used in multiple configurations to evolve with battlefield movements and deployments. It is compatible with other WB GROUP's solutions such as the dismounted observation & command AR technology system U-GATE.
Main features
Range enchancement with MANET
PLI data transmission (position location information)
Flexible interconnectivity by Ethernet and USB ports
IP oriented
Cold start under 5 seconds
On the fly waveforms exchange
Embedded encryption
Battery operation up to 10 hours
Frequency hopping (700/s, all waveforms)
Embedded encryption with anti-tamper protection
1Mbit channel throughput (providing video transmission capability)
Technical details PERAD 6010 Tactical MANET Radio
Frequency range
- UHF band- L-Band
RF Output power
1W average
Sensitivity
< -102 dBm universal WF < -82 dBm wideband WF < -116 dBm narrowband WF
Modulation type
HDR COFDM WF UHDR COFDM WF NB COFDM WF
Data rate
Up to 1 Mbits/s universal WF Up to 4 Mbits/s wideband WF Up to 75 kbits/s narrowband WF
LOS range
Up to 14 km Up to 10 km with directional antennas Up to 100 km
Interface
Headset ? Ethernet 10/100BASE-T ? USB ? Additional Bluetooth
Operational battery life
up to 10 hrs
HUB - Hold up battery
12 months ? maintaining encryption keys
Size
7.1? h x 3.1? w x 1.4? d / 223 mm h x 88 mm w x 44 mm d
Operating temperature
-33°C to +55°C
Storage temperature
-51°C to +71°C
Immersion
1 m for 2 hours
Range enchancement with mesh networking
Cold start under 5 seconds
PLI data transmission
Flexible connectivity by Ethernet or USB ports
Embedded encryption with anti-tamper protection
IP oriented
1MBIT channel throughput
Frequency hopping (700/S, all waveforms)
Joint dismounted soldier system (JDSS) STANAG 4677 in accordance with NATO standards