SmartEye ST-1 / LR / RL / ANPR
SmartEye systems designed for traffic surveillance and automatic evidence capture using newest 3D tracking type radar, 3D scanning laser, and high-resolution cameras.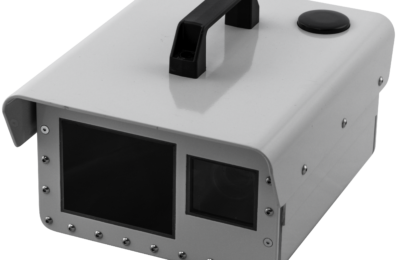 The system automatically captures and transmits evidence of various violations to a central server. Connected with PolCam Back Office or any other functional ticketing solution by using delivered API SmartEye is a complete system for traffic law enforcement.
Quick   and   easy   installation   and     setup     process     and     modern     system     interface     make the device user-friendly. System    architecture    allows    operating  on  a  tripod  with  a  touchscreen   as   well   as   on   fixed  installation  with  remote  control.
Main Features
Protection class IP66 (IP67 on demand)
Stationary and mobile use
Double independent speed and distance measurement
– Tracking Radar 3D
– Scanning Laser 3D
Tracking speed and position of up to 32 vehicles simultaneously
Remote control
Various camera models HD – 5MPixel – 12,4 MPixel, dual camera
Accuracy – 3km/h to 100km/h – 3% above 100km/h
Compact size and weight
FEATURES
compact and lightweight architecture enabling the use on 1-2 mtripod, in any vehicle, on a fixed installation or a pneumatic pole.
full control of up to 32 vehicles simultaneously with including individual speed tagging, distance and other essential meta-data of each captured car. Automatic monitor different speed limits for each lane as well as vehicles types.
evidence providing as full-HD video and hi-resolution still photo-graphs of license plates and facial characteristics through the camera automatically adapt to changing environments together with the flash system can operate at any conditions on a 24/7 basis, day and night and various weather conditions (snow, rain, fog).
camera quality and advanced tracking technology allow to monitor vehicles at typically measuring zone from 10 m to 80 m at a six-lane road. System support road slope and road radius above 80 m.
User friendly setup wizard and system auto-calibration features allow one person to operate the system. The solution is highly customizable to fit any market requirements. Device fulfills and exceeds all current market require-ment in European Union including type approvals requirements in various European metrology institutes.
Even/odd violation
The system captures vehicles with not allowed numberplate type. Built-in schedule defines the whole calendar of numberplate type allowed to use the public road.
Black list violation
The system continuously monitors each vehicle on the road. Automatically recognize number plate and compare with the internal database. Successful match result evidence creation
Too close violation
The system continuously monitors the position of each vehicle on the road. Automatically recognize cars driving too close and create evidence of such driving behavior.
Redlight violation
The system continuously captures data from the traffic lights.  All data, including the time of last change, are being stored in the device's memory. Thanks to modern 3D sensors and video analysis, the system tracks every object on the road. Having information about the object's position, it's speed and traffic lights position. The system precisely registers violations on the crossroad connect-ed with the red light violation.
Recorded materials contain:
high quality 5 – 12 MPixel image,HD video with light status change video, complete metadata.
The system captures photo evidence when the vehicle is before violation line, track the car and record the violation with an additional high-quality photo when violator passes the crossing at the red light.
Restricted lane
The system captures vehicles traveling on a marked lane (ex. bus lane) and store HQ photo and video material.
Lane change violation
The system captures vehicles changing lane at not allowed place. On a continuous line or zebra crossing
POLCAM EVIDENCE BROWSER
The device comes with Windows-based Evidence Browser for local evidence management and processing
The software allows in particular:
browse encrypted evidence files,
store and manage evidence in local DB
mark/ crop/zoom in  the  vehicle  in  violation,
the photo of the driver,
vehicle number plate,
adjust brightness,
contrast, and histogram,
generate SmartPhoto for printing tickets
create video/evidence package for hearings,
restore and  archive  evidence  on  DVD  or  any other storage media.
Centralized Back Office solution for management of many SmartEye systems.
Centralized Back Office solution for management of many SmartEye systems. Web-based secured access allows assignment of dedicated personnel with different roles to manage operations from a central location. PolCam Back Office solution allows collecting evidence from hundreds of different systems spread around the country. System workflow allows to assign multiple violations, print custom made tickets, track the payment and manage the paymentsby the online system. Additional features like a connection to the national database and court module make the violations processing efficient and secure.
SMART EVIDENCE
The  Smart  Evidence Photo can use for immediate printout and Automatic Ticketing systems.  Data protection algorithms secure data from manipulation and warranty successful certification in any country.System software can use the same image for multiple violations. System performance allows generating up to 25 SmartPhoto violations per second. By using internal memory buffer even 50 violations per second at peak.
Software produces a series of high-quality Smart Evidence photo/video including all relevant information describ-ing the violation. The data bar includes in particular: date and time, frame counter, device serial number, software checksum and version, custom text, evidence number, vehicle speed, speed reduced by allowed error, average speed in measuring zone, tracking radar speed or/and scanning laser speed, vehicle type (A – passenger car, B -truck), vehicle size, lane number, vehicle number plates, vehicles direction (incoming, outgoing), vehicle ID number, vehicle speed and speed above the limit, vehicle location on the road (X,Y) in meters, facial characteristic, operator ID Code, GPS position, over 70 characters of location description, full size automatically cropped vehicle, cropped picture of the number plate, speed limits (in addition different limit on different lane and time period), set alarm speed, flash option sets (Always, Automatic, off), graphic road plan view, tolerance walk for alarm trigger, traffic light status and time, …and more if required like certificate number, user institution address.
Technical details SmartEye ST-1 / LR / RL / ANPR
protection class
IP66 (IP67 on demand), IK10
operating temperature
-30°C to +65°C
power consumption
<3 A at 12 V DC <4 A at 12 V DC
power supply
10 V ÷ 15 V DC optional 230 VAC
dimensions
238x285x202 238x385x272
weight
less than 6 kgs less than 8 kgs
Operating unit:  embedded propietary Linux OS, kernel version 4.4
Processor / RAM:  minimum Quad Code 2 GHz, 8 GB RAM
Storage: minimum 120 GB internal SSD ( typ. 40 000 violations)
Communication: 3 x USB, CAN Bus, 1 GBit ethernet, I/O, optional WiFi, optional LTE or UMTS
Control: HTTPS Web Device Controll, RDP, TCP/IP API, optional touch screen monitor