Joystick JAM-03 is meant for control of systems and weapons. The measuring system guarantees high parameters adjustment?s precision in control systems and electric drives.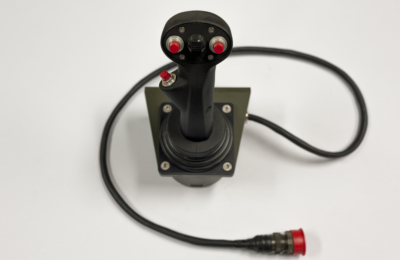 As a result, it is used to build systems requiring high accuracy guidance.
Joystick is made of light metal and corrosion resistant steel and the mechanism and electronics are protected by a soft cover made of a special blend of silicone resistant to changing weather conditions and very low temperatures. The switches located on the handle are resistant to water and dirt. It offers a wide range of button and switches placement on the handle while providing very good work ergonomics for the operator.
Joystick JAM-03 has already been used in many military equipment, for example in the 120 mm Self-Propelled Mortar Carrier RAK, Remote Control Weapon System ZSMU and 23 mm Anti-Aircraft Mobile Gun and Missile System ZUR-23-2KG.