Highly customizable law enforcement solution designed for traffic surveillance and automatic evidence capture using newest 3D tracking type radar, 3D scanning laser, and high-resolution cameras.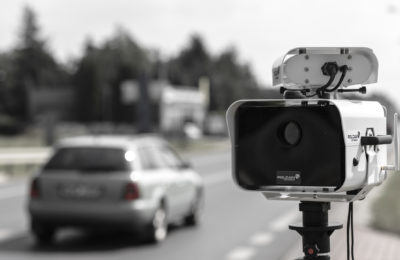 The system automatically captures and transmits evidence of various violations to the central server. Can be connected with PolCam Back Office or any other functional ticketing.  Turnkey solution, easy and discreet installation, setup and automatic calibration process and modern system interface make the device easy to use and flexible. The system architecture allows for mounting the camera on a tripod with a touchscreen as well as on a fixed installation with the remote access.
Compact and lightweight architecture enabling the use on 1-2 m tripods, in any vehicle, on a 3 – 9 m fixed installation, above or a side of the road, up to 9 m from the curb or a pneumatic pole.
Full control of up to 32 vehicles simultaneously with including individual speed tagging, distance and other essential meta-data of each captured car. Automatic monitor different speed limits for each lane as well as vehicles types.
Evidence providing as full-HD video and hi-resolution still photographs of license plates and facial characteristics through the camera automatically adapt to changing environments together with the flash system can operate at any conditions on a 24/7 basis, day and night and various weather conditions (snow, rain, fog).
Camera quality and advanced tracking technology allow monitoring vehicles at typically measuring zone from 10 m to 80 m at a six-lane road. System support road slope and road radius above 80 m.
User-friendly setup wizard and system auto-calibration features allow one person to operate the system. The solution is highly customizable to fit any market requirements. The device fulfils and exceeds all current market requirement in the European Union including type approvals requirements in various European metrology institutes. The system is corresponding with OIMP91 and WELMEC guide.
Protection class IP66 (IP67 on demand)
Stationary and mobile use, installed on the vehicle
Tracking Radar 3D or/and optional Scanning Laser 3D
Tracking speed and position of up to 32 vehicles simultaneously
Remote access
Various cameras: HD, 5MPixel  12,4 MPixel, dual camera
Accuracy  3km/h to 100km/h  3% above 100km/h
Compact size and weight
Even/odd violation
The system captures vehicles with not allowed number plate type. Build-in schedule defines the whole calendar of number plate type permitted to use the public road.
Blacklist violation
The system continuously monitors each vehicle on the road. Automatically recognize number plate and compare with the internal database. Successful match result evidence creation.
Too close violation
The system continuously monitors the position of each vehicle on the road. Automatically recognize cars driving too close and create evidence of such driving behavior.
Wrong way violation
The system detects the direction of travel of each vehicle on the road. Based on the lane configuration system detects wrong way driving and trigger recording evidence.
Red-light violation
The system continuously captures data from the traffic lights. All data, including the time of last change, are being stored in the device's memory. Having information about the object's position, it's speed and traffic lights status. The system precisely registers violations on the crossroad connected with the red light violation.
Restricted lane
The system captures vehicles traveling on a marked lane (ex. bus lane) moreover, store HQ photo or video material.
Lane change violation
The system captures vehicles changing lane at not allowed place on a continuous line or zebra crossing.
remote administration,
user levels and permission map, flexible time based authorization
remote status check,
automatic and manual trigger evidence recording,
optional additional HD video camera with pre and post-recording, for front or rear overview video recording,
custom video analitics (ex. dirty lens, video loss, camera defocus)
encryption AES 256, MD5, cryptographic signature SHA 2048,
internal evidence storage for typically 50 000 evidences,
automatic evidence FTP or USB upload, delete copied,
evidence download on demand,
detailed statistics,
built-in ANPR with 95% accuracy recognition, worldwide number plates
including whole EU number plates.
all vehicles ANPR,
number plate country recognition,
automatic violation vehicle identification, cropping,
multilanguage support,
remote admin by Web Device Control,
secured remote configuration API,
automatic calibration,
capture speed in motion,
power failure data protection and autostart.
make and model recognition
vehicle type and color recognition