Sentry-H is a Software Defined Radio designed for tactical base and mobile deployment. It can also be easily upgraded for expanded capability via the convenience of software upgrades.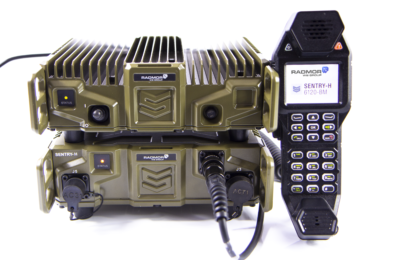 The Sentry-H supports high speed data and state of the art digital voice capabilities in combination with AES 256 Encryption, if required. Frequency Hopping is also available to provide a level of ECCM Protection.
Sentry-H delivers a rugged and affordable Radio solution for military organizations that demand uncompromised, secure long range voice and data communications. It has been specifically designed to deliver the smallest and lightest form factor for no-fuss integration into base and mobile configurations. Sentry-H has been optimized for ease-of-use and features an ergonomic smart handset with a colour, highresolution multi-language interface.
Main features:
Future-proof SDR design
Rugged smart handset with colour display and integrated GPS
Multi-language user interface
Optimized for mobile and base
150 W PEP
Second Generation Digital Voice
MIL-STD-188-110A/B (STANAG 4539) data waveforms (up to 19k2 bps)
AES-256 digital COMSEC
Frequency Hopping
3G ALE (STANAG 4538)
Waterproof MIL-STD-810G construction
IP/USB Connectivity
H-250 Accessories support
Technical details SENTRY-H
Frequency range
1,6 - 30 MHz (Transmit) | 250 kHz - 30 MHz (Receive)
Channels
up to 1000, 500 programmable contacts
Networks
up to 20 (simultaneous scanning)
Weight
2,82 kg | (RFU) 280 g (handset, no cable)
Input voltage
10 V up to 35 V DC
GPS
RFU external antenna (SMB socket), Handset ? embedded receiver/antenna (GPS, GLONASS, Beidou)
Frequency hopping
6/12/25 hop/s (sync. GPS)
Environmental and mechanical
MIL-STD-810G Shock, Drop, Vibration, Humidity, Blowing Dust, Salt Fog, Fungus, Altitude, Immersion IP67
ATU Control
General Purpose Interface
Handset Interface
DC supply
H-250 6-pin MIL support audio in/out, PTT
GPS antenna SMB socket
Antenna N-type
Ignition Sense
USB Keyboard support
Conforms to STANAG 4538
Fast kin king with a high degree of link security
High and low throughput date waveforms
Secure data transfer (option)
Supports All calls types, including SMS (up to 250 characters)
Backward compatible with 2G networks