Web-based PolCam Back Office
Web-based secured access allows for assignment of a dedicated personnel with different roles to manage operations from a central location. PolCam Back Office solution allows for collecting evidence from hundreds of SmartEye systems spread around the country.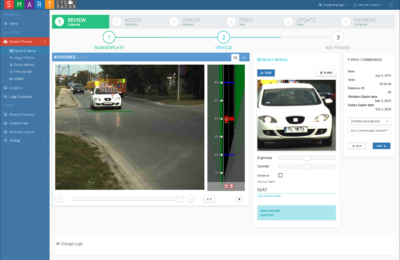 The software continuously monitors the status of each connected device at the central location. Dedicated back office user can see each device location on the map and check device temperature, operating voltage, power failure, angles change, cabinet opening and monitor current device evidence capturing status.
Evidence files are automatically pushed to the central secured cloud storage by VPN connection or pulled by using SmartEye secured communication protocol. The operator can remotely modify settings like speed limit number of photos per violation and more. The operator can update or edit wanted vehicles database (blacklist) with a few single clicks on all connected to the system devices. At any time user can check the current road situation by reading streamed metadata but also viewing live camera image. Software users complex level of users privileges and groups. All user, device activity and incidents log is stored in a secured database for any time review.
The system has several modules designed for a specific operation:
Evidence review
Assign violation
Vehicle owner
Print and mail
Court and hearings
Device management
Certification management
Reports and statistics
Settings
The software is highly customizable and can be suited to country-specific requirements. Any module from evidence, violation, complain processing flow, connection to the national database to local language translation can be added to the system at implementation process. By using developed SmartEvidence API and AES Communication Protocol system can be also connected to already existing Back Office solution , Central Police database available in the country.