Web-based secured access allows for assignment of a dedicated personnel with different roles to manage operations from a central location.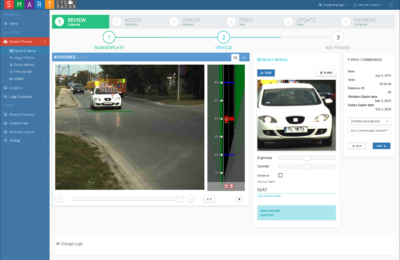 The software continuously monitors the status of each connected device. A user can see each device location on the map and check device temperature, operating voltage, power failure, angles change, and monitor current device evidence capturing status.
The user can check the current road situation anytime via real-time video feed. In addition, the operator can modify remotely settings such as number of photos, speed limit on every violation, and more.
The evidence is automatically VPN-transmitted to the central server or downloaded via the secure communication protocol. It only takes a few clicks for the operator to update or edit the database of wanted vehicles (blacklist) on all connected devices.
All user, device activity and incidents log is stored in a secured database to review anytime.
Operation examples:
Evidence review
Violation assigning
Vehicle and owner information assigning
Print and mail
Device management
Certification and mainetenance management
Reports and statistics
The software is compatible with the specific requirements for specific country. With the use of SmartEvidence API and the SmatEye communication protocol system, it can be connected to various external services.