This small size, lightweight and easy to use radio is ideal personal radio for soldiers especially for company and platoon levels of the armed forces.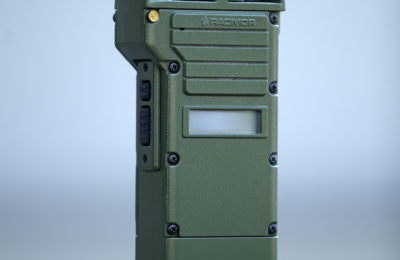 It provides the following types of communication: clear voice communication, scrambled voice communication, digitized voice transmission and data transmission selective call, GPS. 50 W amplifier, vehicle set and a wide range of equipment (microtelephones, battery chargers, audio accessories, antennas, fasteners and cases).
Easy to operate
2 switches and 2 buttons are used for radio's operating. Channel number and output power level can be programmed for each of 10 channels. Radio operates much longer using Li-Ion or NiMH battery.  Easy to read backlit LCD display showing the current status of the radio. The radio is equipped with a  built-in test program; errors messages are displayed on LCD display. The radio along with all features such as acoustic equipment, antennas and suspenders are designed to avoid constraint mouvments on a battlefield.
Scramblers
Radio can be equipped with analogue or digital scrambler. Digital scrambler provides higher encryption level than analogue scrambler. 10 encryption keys chosen by user from radio's menu are available. It enables to create mutual separated users groups.
Data transmission
Depending on the radio version, the following internal modems can be built-in:
–            FFSK/ 4LFSK modem (configurable)
– 1,2/2,4/9,6/12,0/19,2/24,0 kb/s
–            GMSK modem – 16kb/s
GPS receiver built-in
Geographical position received by the radio can be displayed on its display and also send to supervisory radio automatically or on operator demand.
Selective call system
Depending on the version radio provides selective communication between single users or between groups of users. Individual or group calls are possible. There is possibility to chose up to 81 numbers of individual calls and to create up to 9 groups 9 users each. Operation with selective call system can be switch on or off by radio operator.
SDS
Short Data Service (SDS) transmission relies on sending three-digit number which has particular meaning in the system. Radio enables sending up to 256 short messages.
Radio programming and management
Frequency, transmission type, channel number and output power level can be programmed for each of 10 channels. It can be done manually without any other external accessories using only switches, buttons and keyboard of the radio. For quick programming channels parameters a fill gun containing all needed data can be used. Cloning the radio, which means quick reproduction of all channels configuration from one radio to another, is also possible. It can be done in the field by connecting two radios up using special cable.