Versatile and flexible mobile SDR COMP@N radios can be connected to the vehicle adapter and power amplifier to create mobile or stationary set.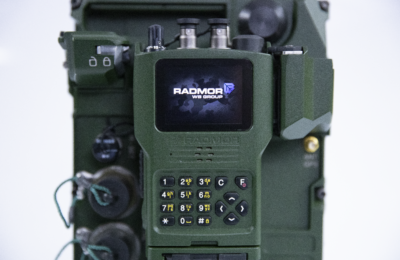 Mobile adapter is a device which enables the use of COMP@N handheld radio in vehicles (e.g. light tanks, transporter vehicles). This set provides a secure attachment and a possibility for easy removing of the radio, without outages. After installing the radio in the adapter, it is being automatically switched to work with vehicular data communications system and power amplifier (if such is installed). In such set, a radio is powered via an adapter with the onboard network of the vehicle, while ensuring the charging of its battery from vehicular power supply. The adapter also provides an access to interfaces of the radio through a dedicated connectors,
enabling further integration with on-board systems.
Mobile set, which consists of handheld COMP@N radio mounted in vehicular adapter, can be extended with power amplifier. It allows to work with maximum power 50 W, which significantly increase radio range. The amplifier is powered from the vehicular power supply and is designed for all the COMP@N family radios.
Basic parameters of the amplifier 
| | |
| --- | --- |
| frequency range | 50 – 520 MhZ |
| input voltage | 17 * 33 V |
| maximum output power | 50 W |
| dimensions | 270 x 180 x 187 |
The amplifier and adapter can be installed in the vehicle either as a separately mounted devices (e.g. spaced apart to several meters), and as one integrated set.
Accessories
Technical details SDR mobile COMP@N radio
Transmission codes
F3E, A3E
Channel
FM: 25 kHz | AM: 8.33 kHz, 25 kHz
Dimensions (with amplifier & adapter)
270 x 180 x 277 mm
large color display
auto backlight intensity regulation
menu
double PTT button
backlit keybord
Emergency Clear button build-in GPS receiver
frequency range                         30÷520 MHz
output power                              up to 50 W
suppression of harmonics:       > 50 dBc
frequency stability:                    +/- 1 ppm
sensitivity:                                  – 116 dBm (SINAD 20 dB)
adjacent channel selectivity      >/_ 50 dB
Audio / PTT
RS232
Ethernet 10/100
USB
Side Connector (to work with COMP@N accesorries)
operational temperature -32°C ÷ +55°C
MIL-STD-810G
EMC MIL-STD-461F
DV operating modes: FH (Frequency Hopping): 100 hop/s, FF (Fixed Frequency)
digital voice transmission
channel 25 kHz
security(AES-256 based)
TRANSEC
COMSEC
Pre-defined profiles with set of mission parameters (radio data, encryption keys)
RSD
channel 25 kHz
capability to enter data via Ethernet or serial port
capability to transmit GPS reports
modulation ?/4 DQPSK
data rate up to 40 kb/s
W2FH
EPM (Electronic Protective Measures) class waveform:  LPD (Low Probability of Detection), LPI (Low Probability of Interception), AJ (Anti-Jamming)
operating modes FH (Frequency Hopping): 300 hop/s
FF (Fixed Frequency)
services:  digital voice (e.g. MELPe 2400, CODEC2) SA (Situation Awareness) messages and GPS reports
data (e.g. serial data, sensor data)
simultaneous transmission of voice, data and SA/GPS
messages
SA (Situation Awareness) data and GPS data can be attached to each transmission of voice and data
synchronization without GNSS (e.g. GPS) Radio Silence mode
modulation: CPM
channel: 25 kHz with possible extension
security (AES-256 based): TRANSEC, COMSEC
data rates: up to 26 kb/s
definable frequency range and sub-bands
pre-defined W2FH profiles with set of mission parameters (radio data, encryption keys)
BMS IP WF MANET class waveform: 
mobile self-configuring and self-organazing network
extended range of services (retransmission within waveform – multihop relay)
operation in IP networks, build-in IP router, QoS supporting
Operating modes:
FH (Frequency Hopping)
FF (Fixed Frequency)
simultaneous voice and data services
Voice services
digital voice (eg. MELPe 2400, CODEC2)
group calls
priviledged users
priority calls (break-in)
double PTT
multi-hop voice
Data services
IP data
Serial data
SA (Situation Awareness) messages
GPS reports
short text messages
sensor data
files, video, pictures,
mail transmission supporting
data retransmission
Other 
synchronization without GNSS (e.g. GPS)
modulation: CPM
channel: 50 KhZ
security (AES-256 based): TRANSEC, COMSEC, NETSEC
data rates: up to 40 kb/s
definable frequency range and sub-bands
pre-defined BMS IP WF profiles with set of
mission parameters (radio data, encryption keys)
sms
number of networks: 20