Fire Control System TOPAZ
Automated Fire Control System within the framework of artillery modernisation initiated the implementation of network-centric warfare systems on the Armed Forces of the Republic of Poland.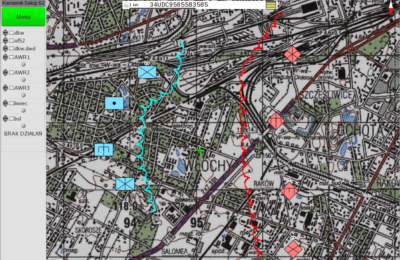 TOPAZ allows for coordination of activities at the level of battalion, ensuring operation with higher levels of command in accordance with the principle of interoperability TOPAZ allows to gain advantage on the battlefield through effective sourcing, distribution and processing of information in a dispersed command centres model in the theatre of war (TW).
The use of TOPAZ provides the opportunity to optimise the utilisation of available artillery fire resources to ensure adequate firepower at the right time and the right place.

Individual features:
effective execution of the Call For Fire [CFF] procedure in artillery;
enhanced safety of own armed forces during warfare operations and military exercises (avoidance of "blue on blue" incidents);
direction of adequate firepower toward high priority targets;
optimal utilisation of available sensors, communication means and ammunition
implementation of coordinated fire support from diverse artillery fire sources available to a commanding officer
availability of integrated information on operational activities in command posts (Common Operational Picture – COP);
directing firepower towards multiple targets simultaneously;
reduction of reaction time for all types of fire missions;
reduction in the number of field artillery crew members necessary for effective execution of fire missions;
reduction in time necessary for redeployment of forces and preparation for missions;
Due to modular design of the system, it can be configured and adapted to the command structure indicated by a system user.
TOPAZ software suggests, in an automated manner, the adequate fire mission based on analysis of the effectiveness of available resources and tactical decisions made by a commanding officer.
The system enables utilisation of the Unmanned Aerial Vehicle FLYEYE as an airborne target acquistion device for determination of target coordinates and fire correction.